Week 6 - Extra mylination of the neurons in your motor cortex
This past week was ski week. Schools were off for the week. We were near South Lake Tahoe - hitting the slopes everyday at Sierra@Tahoe. This is the fourth year that I have enjoyed the snow -
first year: snowtubing
second year: one snowboard lesson
third year: 4 days on the slope + rib bruise,
and this year - a glorious week of learning to snowboard on snow and ice and slush.
━─━─━━─━「₪」━━─━─━─━
What is a mylinated neuron
━─━─━━─━「₪」━━─━─━─━
1. Extra mylination of the neurons in your motor cortex
Why would I want extra mylination of the neurons in my motor cortex? Well, it increases the speed and efficiency of information travel from one neuron to another. Quick responses, I think.
Ok. How do I do that? Well, learn a new sport.
I recommend
snowboarding in the winter
climbing in the summer
cycling year round
swimming / hiking / what you're friends are doing for a break.
And also ...
Learning a new sport or skill when you are old enough to be a parent to your instructor is psychologically uplifting, as well as beneficial for the body and brain. It reminds you that your body can still respond, that it can still yearn for movement and speed.
━─━─━━─━「₪」━━─━─━─━
2. Fear and Flow
This past week, I overcame my fear of catching the front-edge on the snowboard and eating it. Almost. Not that I stopped falling - just that the fear of falling is no longer constantly on the top of my mind.
In sports, and in life, I struggle a lot with fear - fear of falling, fear of speed, fear of turning, fear of putting myself out there and making a fool of myself, fear of conflict, fear of displeasing people...
Frank Herbert says it best in Dune
I must not fear.

Fear is the mind-killer.

Fear is the little-death that brings total obliteration.

I will face my fear.

I will permit it to pass over me and through me.

And when it has gone past I will turn the inner eye to see its path.

Where the fear has gone there will be nothing.

Only I will remain.
I am sure I am not the only one facing Fear - of whatever flavor. Back in 2016, I read The Rise of Superman: Decoding the Science of Ultimate Human Performance by Steven Kotler. I am reminded of parts of this book - about adventure sports, and the state of flow - time and again.
It first spelled out what we all instinctively feel but don't verbalize.
Focus was the key to getting past the fear—and everything else as well.
And some practical suggestions on triggering flow.
you want to trigger flow, the challenge should be 4 percent greater than the skills.
who can't push 4 percent further than the last time around? Or, for that matter, clarify goals or tighten feedback loops? It's not too difficult to keep flow's internal triggers in mind when
And why its important for the young and old?
Researchers recently coined the phrase "Twenty-First-Century Skills" to describe those myriad abilities our children need to thrive in this century–abilities not currently taught in school, but desperately needed in society. Action and adventure sports demand them all.
━─━─━━─━「₪」━━─━─━─━
Extreme snowboarding and skiing
━─━─━━─━「₪」━━─━─━─━
3. First Ski Descent of the 4th highest mountain in the world - Lhotse
Farnam Street's brain food sent me this link this morning - skiing down Lhotse
━─━─━━─━「₪」━━─━─━─━
4. Sport and Play
For some, and I belong to this category - sport is play. Play - like play is to young children - is a serious affair.
Lynda Barry asks in 'What it is"
IS PLAYING always FUN? What else is it?
━─━─━━─━「₪」━━─━─━─━
Lynda Barry, What it is, Page 51
━─━─━━─━「₪」━━─━─━─━
5. The Creating Learning Spiral
Play is an essential part of the 'Creating Learning Spiral'
Imagine -> Create -> Play -> Share -> Reflect -> Imagine ....
This spiral is the way of learning things by doing.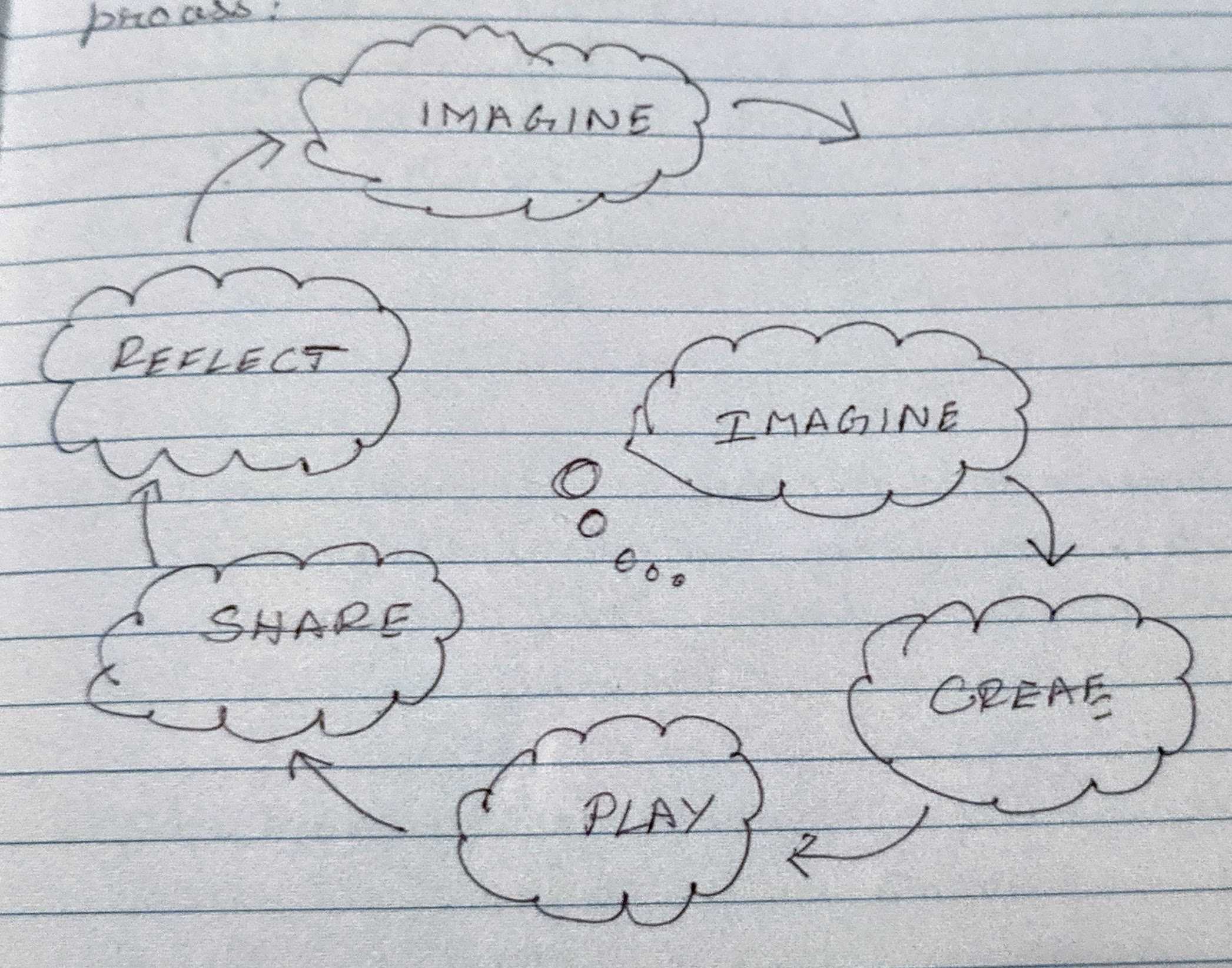 ━─━─━━─━「₪」━━─━─━─━
6. Coyote and Badger go viral
Play is not exclusive to humans. Check out this amazing adorable video from https://openspacetrust.org/blog/coyote-and-badger/:
It's not uncommon for badgers and coyotes to hunt together. When they work together this way, it's a little easier for them to catch their next meals, prey species like ground squirrels. But to see them moving through a small tunnel (or culvert) like this while playing is pretty surprising.
━─━─━━─━「₪」━━─━─━─━
7.
pic.twitter.com/dRXi0mRd7t

— RΛMIN NΛSIBOV (@RaminNasibov) February 15, 2020
━─━─━━─━「₪」━━─━─━─━
ASCII divider art from here
The font used here is Gimlet XRay - January's delivery from the David Jonathan Ross' Font of the Month Club.