Week 4 - drawing inspiration ...
In this week's newsletter, I'll try a bullet-point format - Inspiration: Austin Kleon. Do you like bullet points over un-bulleted paragraphs? Let me know.
8 things I want to share today:
⌎⊱⊶⊷⊶⊷⊶⊷⊶⊷⇲⊰⌏
Lynda Barry - MacArthur Genius
⌎⊱⊶⊷⊶⊷⊶⊷⊶⊷⇲⊰⌏
1. Austin Kleon inspiration week
Well, it started innocuously enough. I re-listened to his conversation with Jocelyn K. Glei : Pen vs Pencil. From here, I visited his blog, which led me to his amazon store and some books he recommends. I ended up borrowing a few of his recommendations from the library.
Barry's next book follows roughly the same structure: half the book is a crazy collage/comic memoir, and the other half is a "how-to" writing workbook based on her Writing The Unthinkable! workshops. -- Austin Kleon
'Ed Emberley's Drawing Book: Make a World'
Ed Emberley shows you how to "make a world" with just a few simple shapes, step-by-step. I love the emphasis on simplicity: if you can draw a triangle, a square, a circle, and a line, you're good to go. -- Austin Kleon
⌎⊱⊶⊷⊶⊷⊶⊷⊶⊷⇲⊰⌏
2. Ed Emberley
And, just like that, we may have a new bedtime ritual in the house. Just before bedtime, my 7 year old and I pick one or two drawings from 'Ed Emberley's Make a World', and draw it side by side on the whiteboard in her room. Followed by a math problem. And practice some eyes and faces. It's such a fun way to end the night, to learn how to draw stick figures.
And the next morning, she leaves notes for me on the white board in my drawings!
And what else is amazing are..... white boards! Every house should have one. I say, you need one in every room. They are great for drawing, leaving messages, brainstorming, and debugging logic flows in your code!
⌎⊱⊶⊷⊶⊷⊶⊷⊶⊷⇲⊰⌏
Lynda Barry - MacArthur Genius
⌎⊱⊶⊷⊶⊷⊶⊷⊶⊷⇲⊰⌏
3. Rachmaninoff and Dan Simmons
Listening to Spotify: Rachmaninoff's Piano Concerto 2. On repeat. For 6 months now.
I was not a classical music listener. And then I read this opening paragraph of Hyperion - the first book in the Hyperion Cantos by Dan Simmons. (emphasis mine.)
The Hegemony Consul sat on the balcony of his ebony spaceship and played Rachmaninoff's Prelude in C-sharp minor on an ancient but well-maintained Steinway while great, green, saurian things surged and bellowed in the swamps below. A thunderstorm was brewing to the north. Bruise-black clouds silhouetted a forest of giant gymnosperms while startocumulus towered nine kilometers high in a violent sky. Lightning rippled along the horizon. Closer to the ship, occational vague, replitlian shapes would blunder into the interdiction field, cry out, and then crash away through indigo mists.
Can words make you a classical music lover?
⌎⊱⊶⊷⊶⊷⊶⊷⊶⊷⇲⊰⌏
4. Prelude to the Oscars
Best picture based on Typography? Why not!
⌎⊱⊶⊷⊶⊷⊶⊷⊶⊷⇲⊰⌏
5. Reading this week
I finished this really good book 'Gods of Jade and Shadow' by Silvia Moreno-Garcia. Set in the roaring 20s, wanders all over Mexico, and based on Mayan mythology. The heroes are young adults. There is young love, angst - but also this pragmatic and fierce joy in life, this almost driven living in the moment - like a fierce buddhist or a romantic stoic.
I'm also in the middle of 'The Rider' by Tim Krabbe.So far, it's a book about bicycling riding, and racing and journalism and chess? and the pointlessness of it all - and why its the most important thing in the world. A book I'm trying hard to savor.
And I'm dipping in and out of my nth reread of 'Antifragile' by Nassim Taleb and first read of "What it it" by Lynda Barry.
⌎⊱⊶⊷⊶⊷⊶⊷⊶⊷⇲⊰⌏
Lynda Barry - MacArthur Genius
⌎⊱⊶⊷⊶⊷⊶⊷⊶⊷⇲⊰⌏
6. On Anger
And from The Daily Stoic
"To see that anger is not anger but often a glimpse of what is unresolved underneath."
On how anger is almost always a covering up of some other emotion - which we don't want to expose - insecurity, doubt, disappointment, abandonment, helplessness, fear, sadness, want ...
⌎⊱⊶⊷⊶⊷⊶⊷⊶⊷⇲⊰⌏
7. Astrology and science and history
"Why Astrology matters" on Nautilus (to science)
Astrology and big data:
"He honors the latter as "the ancient world's most ambitious applied mathematics problem, a grand data-analysis enterprise." It involved gathering thousands of years of observations of heavenly motion, and the concomitant earthly events—whether they be births, deaths, kingdoms lost, or riches gained—into enormous datasets"
Astrology and pattern matching:
"Like ancient AI, it was the job of astrologers to identify patterns in the gathered data and extract meaning from the correlations they found. Who can blame them if they sometimes saw patterns and meaning where there were none?"
Just a quote I like - might as well be from Star Wars or Lord of the Rings,
"Men will from time to time revert to darkness out of boredom with light," said the 17th-century philosopher and mathematician Gottfried Leibniz in an essay he wrote at the beginning of the 18th century.
⌎⊱⊶⊷⊶⊷⊶⊷⊶⊷⇲⊰⌏
8. Climbing
A video to leave you with: Mechanics of Climbing
⌎⊱⊶⊷⊶⊷⊶⊷⊶⊷⇲⊰⌏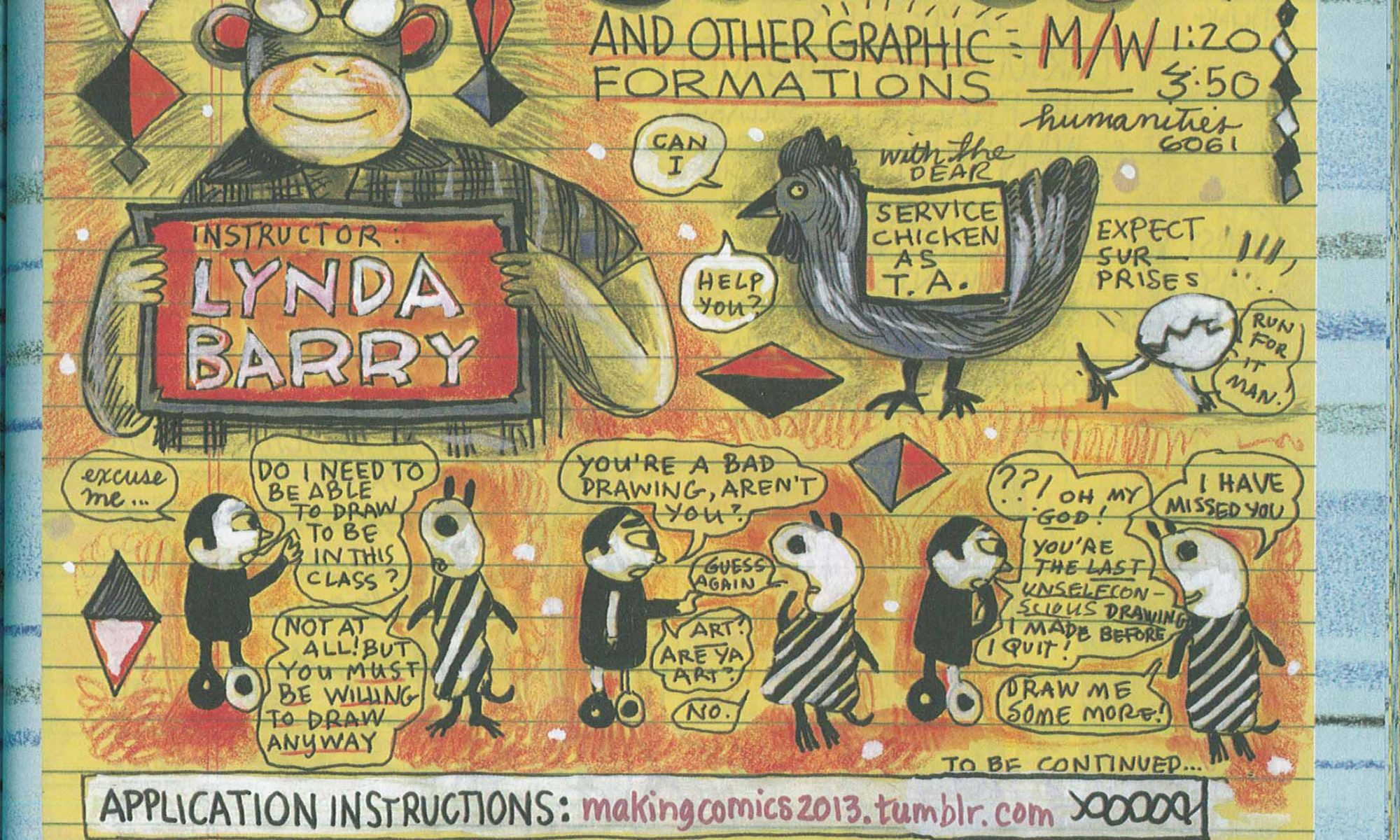 Lynda Barry - MacArthur Genius
⌎⊱⊶⊷⊶⊷⊶⊷⊶⊷⇲⊰⌏
Artwork by [Lynda Barry - MacArthur Genius](https://thenearsightedmonkey.tumblr.com/.
ASCII divider art from here
The font used here is Gimlet XRay - January's delivery from the David Jonathan Ross' Font of the Month Club.